Perfectly Raw™
Complete - Balanced - Vet approved Raw Diet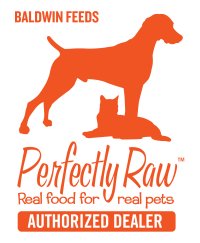 This is the raw diet we feed our own dogs. We are so pleased with how well our own dogs are doing on it that we have become an authorized dealer!
Perfectly Raw™ foods are made from all natural fresh, human grade top quality ingredients to mimic the natural carnivore diet preferred by your dogs and cats.
There are no grains, corn or fillers. There are no hormones, steroids or preservatives. Just nutrition as nature intended!
Check out the product line below. There is something for everyone! All are complete and balanced meals except those marked.

Here is the price list. You'll find the the 16x2 and 8x4's are the best value.
For more information and to order, contact us at office@irricanakountrykennel.com or call 403.970.4400. Feel free to check out the Perfectly Raw™ website - there is lots of great information there.
Upcoming 2023 Order dates: January 26, February 23, March 23, April 20, May 18, June 15, July 13, August 10, September 7, October 5, November 2, November 30, and December 28.

Delivery is 2 weeks after each order date.
Product

Description

Ground Chicken Backs (this is not a complete meal)

Perfect for active dogs and pups; contains just enough fat to meet energy needs, and plenty of protein, vitamins, minerals and amino acids for strong growth and development.

Ground Lean Meaty Bones (GLMB) (this is not a complete meal)

Perfect for less active dogs; contains less fat, more protein, bone matter and marrow. A good source of minerals, especially calcium, fat soluble vitamins, and cartilage.

Ground Turkey - bone in (this is not a complete meal)

Perfect for active, working, and lactating dogs with a high energy need and/or chicken-related allergies. High in protein, fat, and bone. Excellent source of calcium and other vitamins.

Pro Energy Mix

Perfect for active, working, underweight, and lactating dogs and growing pups. Used by pro mushers, this 3-protein, high fat blend (our GCB, liver, eggs) will give your dog that winning edge.

4 Pro Fish Mix

Popular with show breeders, this 4-protein,low fat mix including Pacific Coast Salmon is loaded with Omega oils to support healthier immune systems, softer and more luxurious coats.

Lean Chicken Dinner

Spoil your dogs with this high protein meal. Our GLMB fortified with vitamins, minerals and anti-oxidants from a custom blend of whole fruits and veggies.

Turkey Dinner

Perfect for active, working and lactating dogs with a high energy need and chicken-related allergies. Our Ground Turkey, Bone In with a custom blend of whole fruits and veggies.

Purrfect Pro Mix

Perfect for cats and small dogs. Specially formulated and scored into smaller portions for easy feeding and digestion. Fortified with Taurine for maximum health benefits.

Pure Pork Mix

Add variety to your dog's diet. Hypo-allergenic for dogs with allergic reactions to poultry-based products, and the perfect meal alternative to expensive red meats.

Chicken Necks

Individually frozen for the perfect treat! Healthy, tasty, perfect for jaw exercise and oral hygiene too. Called "Natures Toothbrush"

Whole Chicken Backs

"Nature's Tooth Brush" - they are perfect for oral hygiene, jaw exercise, and are healthy & tasty too! Individually frozen for the perfect treat!
Real Benefits
Shinier, softer, more luxurious coats and healthier skin.


Reduced shedding, dander and bad coat/hair smell.


Healthier teeth, gums and better breath - less bacteria & infection, reducing the load on the immune system


Stronger immune system reduce inflammatory conditions and infections


Heathier, leaner bodies for stronger hearts, lungs, muscles, bones and joints.


Less weight, more energy & activity reduces obesity & threats of diabetes, arthritis, hip dysplasia and other joint issues.


Less ear & yeast infections, bladder stones & allergies.


Improved digestion - less gas; smaller, firmer, less smelly & 100% biodegradable stools


Nutritional Information
Check out the complete Nutritional Analysis chart (pdf) for each product.
Resources
Great article called Junk Pet Food and The Damage Done, by Dr. Tom Lonsdale.
Do you know what is in the kibble you feed your dogs? Here is some good information about many of the ingredients and perservatives found in commercial pet food.
An indepth look at the commercial pet food industry, the total lack of oversight, and what nutritional requirements cat and dogs actually have, compared to what they are being served. An eye opener, on a subject rarely exposed.

Please note that it is available on NetFlix.
Video series on Myths about Raw Diet for Dogs and Cats
by Veterinarian Dr. Karen Becker