Tracy Goodbrand has been passionate about animals all of her life! She is a country girl who has had many types of animals in her life.
Tracy has such empathy for animals! She was that young girl who tried to save the baby weasels when their mama was killed. She kept their pink bodies warm in her bedroom and fed them with an eye dropper every 2 hours. She even tried to save the baby magpie when he fell from the nest, but couldn't' fly yet.
Her heart always grows 2 sizes every time she comes across an animal that is in distress or isn't being treated right. Over the years, many of her pets have been rescued.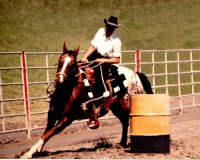 Maxwell, a horse she rescued at the age of 6 years old, and Tracy spent 25 years together. They hold many high point titles, awards, and even qualified for the World Appaloosa Show back in the day when it was hard for a Canadian to qualify!
Her goal is to ensure animal's needs are met and make a difference to their lives!
Tracy is an experienced animal handler, a Certified Pro dog Trainer, a Certified Canine Specialist (PIJAC) and also has her Pet First Aid certificate.
Tracy presently competes in Rally Obedience, Sprinting, and conformation. All her dogs hold titles and she will continue to compete with them. She is also interested in scent work and agility.