Puppy Socialization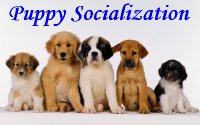 Registration Form
This is an online, fillable pdf form. Please email to office@irricanakountrykennel.com.
Do you have a new puppy? Come take our Puppy Socialization course and set up your puppy for success with people, other dogs, and the world we live in! Early and proper socialization is critical to prevent future problems and behavior issues.
You and your pup will learn:
To socialize with & properly meet new people
To socialize with & properly meet other dogs
Adjust and accept various sights and sounds of the world
Encourage appropriate behavior
Obedience training
Set boundaries
Fun activities to do with your puppy
Please note that all puppies need to have had their 2nd puppy shots.

Up to about 3 months of age, puppies are primed for bonding to other animals and individuals, for learning that objects, people, and environments are safe, and for learning what the body cues and signals of others mean. It is their sensitive period for socialization and it is the most important socialization period in a dog's life. Puppies who do not get adequate socialization during this period tend to be fearful of unfamiliar people, or dogs, or sounds, objects and environments. Set up your puppy for success!

• Lead Instructor is Sherri Trithart. Read Sherri's bio!
This is a 6 week course, with 1/2 hour sessions once a week.
Date: Starting Wednesday, October 2, 2019,
October 9, 16, 23, 30 and November 6, 2019

Time: 6:30 to 7:00 PM

Cost: $90 / person (+ GST)

Minimum - 3 puppies
Register today by calling 403.970.4400 or emailing us! Resgistrations will be taken up to Friday, September 27, 2019.
Informational handouts will be available.
Can't make this workshop? Contact us with your suggestions for other dates and times.