Canine First Aid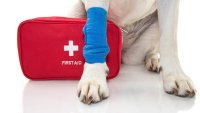 First Aid Registration Form
This is an online, fillable pdf form. Please email to office@irricanakountrykennel.com.
The class will be hands-on in a fun and supportive environment and include basic health and care, nutritional needs, parasite control and removal, safe muzzling, vital signs, ear injuries, sliced pads, broken/torn nails, swimmers tail, mouth injuries, eye and head wrapping, bloat, hyper/hypothermia, frostbite, heat stroke, puncture wounds, lacerations, splinting, stabilizing for transport, seizures, CPR, mouth to nose resuscitation, skunk and porcupine run-ins, whelping, common foods/plants poisonous to dogs, building an Elizabethan collar, fish hook injuries, swallowed objects, vomiting and diarrhea, administering medications, and so much more!

When training is complete, we send you home with a 130+ page canine first aid reference manual, a certificate of completion, and a wallet-sized first-aider card with normal vital signs on the back and at your finger tips.

Refreshments and lunch provided. Please let us know any dietary restrictions in advance.

We will be needing a few dogs to practice on. If your dog is really great with people and other dogs, and you are interested in having your dog participate, please let us know. Only 4 dogs will be approved and allowed to participate.

What to bring:
Dress for comfort and to have fun!
Pencil, pens, notebook, etc.
If you are bringing your dog, please bring all his/her supplies (collar/leash, crate, water, treats, poop baggies) to be comfortable for a full day.
Instructor TBA
Date: TBA

Location: The kennel or Irricana.

Time: 9:00 AM to 4:00 PM

Cost: $150.00 / dog

Maximium 20 people, minimum age: 10 years old
Register today by calling 403.970.4400 or emailing us! Resgistrations will be taken up to TBA.